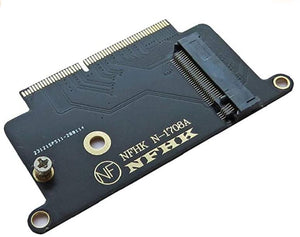 M.2 NVMe SSD to 2016 2017 MacBook Pro A1708 SSD Converter Card Adapter Support 2230 2242 NVMe SSD
M.2 NVMe SSD to 2016 2017 MacBook Pro A1708 SSD Converter Card Adapter Support 2230 2242 NVMe SSD

1. This adapter is only suitable for Late 2016-Mid 2017 Year Macbook Pro A1708 model.

2. Only supports 2230/2242 type key M Nvme M.2 SSD, does not support SATA bus key B/B + M SSD.

3. Compatible with MacBookPro13.1 (Late 2016) and MacBookPro14.1 (Mid 2017) Non-Touch Bar Models only.

4. Connects to a PCIe 3.0 x4 slot with the 22 + 34 pin connector.

Please Note that the installation of disk is not recognized to have the following points:

1.The original hard disk system version is too low.please don't use M.2 SATA SSD.

2.This adapter card only supports the installation of Mac OS Mojave, Catalina or higher versions of Apple systems, and does not support the installation of systems lower than 10.14, because the NVMe driver integrated in the lower version systems cannot recognize most of the NVMe SSDs currently on the market!

3.When the hard disk is turned on before the system is installed, you cannot see the hard disk by pressing the option button. Don't think that the disk cannot be read at this step. Please use the installation USB to boot, enter the disk tool, partition and format the hard disk before installing the system normally!
---
We Also Recommend