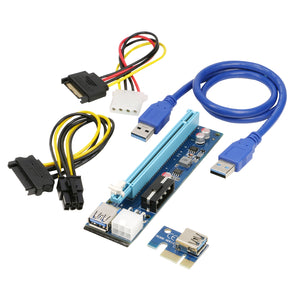 RIITOP Mining PCI-E Riser Card 1x To 16x Extender Adapter for Ethereum ETH Monero BTC Litecoin Vertcoin w/ 6pin & 4pin+15Pin SATA to Molex 4Pin
Note:
Please choose high quality PCIE Riser Card to Protect your expensive graphics card.

 


100% tested! High Quality guaranteed and free DOA replacement!
Note:

1. New Version: with 4pin & 6pin Power Port on Board.

2. Please plug in the power cord. When plug PCI - E extension must be computer broken wires plug again.

3. The form a complete set of wire rod is customized, never grab line to plug in. Remember that!

4. When plug wire must identify the direction, not to counter or offset, prevent burning equipment, plug wire when the socket of equipment first, then plug wire, avoid too hard plug socket pin is broken.

5. Molex 4pin or Big 6pin for power supply standard parts, please check put in place, when inserted into the power supply plug line must be careful.

6. Dual-core graphics Suggestions with the old line, the mainboard is 16 x also recommends using the old row line!

7. Attention:Please make sure to turn off you PC before connect .Don't support hot swap.

Specification:

Board size: approx.12.8cm x 3.8cm x 1.0cm/5.03" x 1.49" x 0.39".

Color: Blue.

USB Cable Length: approx.60cm/1.96 feet.

Using 60cm USB 3.0 cable as extender cable ,premium quality and super speed.

With 3x FP solid capacitors, making graphics power supply more stable and secure.

With SATA 15pin Male to 4pin power cable,more powerful,and reduce the burden of the motherboard.

Compatible with 1x, 4x, 8x, 16x PCI-E slot of the motherboard.

With side clip to fasten other card.

No driver needed.

Dedicated for bitcoin mining.

Package included:

1x PCI-E 16X Aadapter.

1x PCI-E 1X Riser Board.

1x USB 3.0 Cable.

1x SATA 15 Pin-4Pin Power Cable.

1x SATA 15 Pin-6Pin Power Cable.
---
We Also Recommend