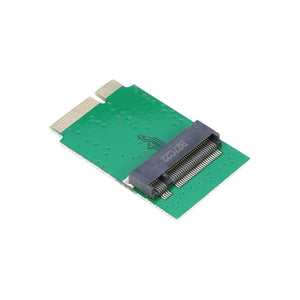 NGFF M.2 (B+M Key) SSD to 7+17 pin Adapter For A1465 A1466 Macbook Air 2012 ( No SSD inlcuding)
M.2 NGFF SATA 80mm to Apple 2012 Macbook Air A1466 A1465 SSD Converter Card Adapter
Note: 
1. Please check your MacBook SSD Specification first before you buy the adapter.
2. Only Support B/B+M Key SATA Based SSD (DO NOT support NVMe/AHCI SSD).
2 Lane M.2 NGFF SATA 80mm to Apple 2012 2012 Macbook Retina SSD add-on card.
Descriptions:
The Adapter can convert the NGFF SSD to Apple 2012 Macbook Retina SSD interface, you can install the 80mm NGFF SSD 
in to the Apple Socket  2012 Macbook Air A1466 A1465 MD223 MD224 MD231 MD232. This adapter only support the M.2 
NGFF SATA 80mm SSD does not support the NGFF PCI-E SSD. Fully compliant with SATA revision 3.1
Specifications:
Fully compliant with PCI Express M.2 Specification Version 1.0.
The product only support 2012 version Apple MacBook Air model is A1465 A1466 (MD223 MD224 MD231 MD232).
The speed and other properties is not changed, only form conversion interface.
Adapter card + M.2 NGFF SSD can replace original hard disk, also installed the Mac OS or Windows operating system
Product dimensions: 39mm x 23mm x 3mm.
Package includes:
1x 2 Lane M.2 NGFF SATA 2280mm to Apple 2012 SSD Adapter Card
---
We Also Recommend